The ferry from Algeciras to Tanger med
In october 2022 we took the ferry from Algeciras to Tanger with our land rover defender. For us this was the first time with the defender to travel outside of Europe. It was a very pleasant experience.
Inbound
We stayed at a campsite within an hour of the port. It was not so nice so not worth recommending. On our way back we stayed at Valdevarques which we liked very much.
Anyway, we arrived at the ferry well ahead of time. We bought our tickets online in advance and also arranged the checkin online. We were doubting if we should have printed our boarding passes but the accept online tickets on your phone so that was very convienent.
When arriving at the port they scan the barcode and give you printed tickets. We also booked our return ticket in advance and received them printed as well. Then we went through passport control and waited to board the ferry.
On the ferry itself you have to get your passport stamped by the Moroccan border control. It is very important that you go to the office on the boat they will check your passport for the stamp as soon as you drive off the ferry.
Then you drive for a couple of meters and enter the border control. We had to get out of our car and give all the necessary paperwork to the douane: driver license, car registration certificate and car insurance papers. They will check this and register you and the car in the system.
You will receive a small white piece of paper that you must carry with you at all times and need to return when you leave the country. After we received the white document our car was checked by a drug dog. We saw other cars that had to unload all of their luggage but luckily for us everything went very smooth and we were on the road in no time.
We had around a 2 hour drive to go from the port to the town of Chefchouen.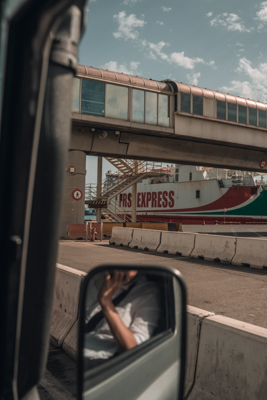 OUTBOUND
We had booked our ferry ticket in advance and received our printed tickets during our inbound trip. However, at the last moment we decided to take the ferry a day earlier. We called the call center of FRS and asked if it was possible. It was very easy we just had to give our booking number and they changed our ticket to the next available ferry. For us this meant we had an hour to get to the port, it was a bit stressfull but luckily we made it in time.
They had sent the confirmation by email and at the port we had to go to the office to exchange our confirmation for actual ferry tickets. Again very fast and no problems at all. Then we had to go through a lot of police checks.
First stop was to get our passports stamped out of morocco. The next booth was at customs to check out our car, here we had to give our white piece of paper. During these checks they looked inside our car multiple times, we think to see if there are not more passengers in our car. Then we had to get in line for the Xray machine. They check 5-6 cars at a time with a huge machine. You will have to get out of your car during the scan. After the scan cars and luggage are checked again and a police dog will walk around the car. When we were given the clear to go sign we drove to the ferry platform. There they performed one last passport and car check before you drive onto the boat.
We were the last ones to go on and were happy we could get on this earlier ferry. When we arrived to Spain we had to go through passport control one more time and we were back in Europe main land.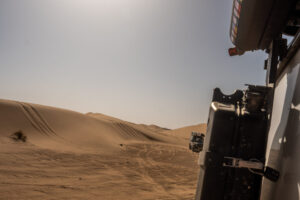 Morocco
Is it difficult to drive through the sahara desert? For us as amateur novice overlanders it was challenging but not difficult. In October 2022 we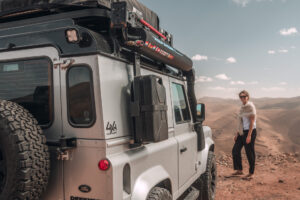 Morocco
Fuel in Morocco on a 4×4 offroad trip We toured around morocco in our landrover defender in October 2022 for 16 days and this is