Our short overland trip in the French alps
With easter we had 5 days off so we went for a short overland trip with Lewie to Rhone-alps in France.
Short trip number three this year, its 14th of April in 2022. Because we had 5 days off for easter we decided to go on a short overland trip to France so we could test all our new equipment. 
We left on Thursday around lunch time because we had to work first. Our destination would be the France Alps (Rhone-alps). From our house in The Netherlands its around 1000 kilometers. 
Because we didn't want to drive in one long ride, we found a camping near Verdun, France. It was around 450 kilometers. There was a lot of traffic, everyone was free that weekend so we had a few traffic jams. 
We found an epic campsite. We arrived there around 10 in the evening. It was beautiful. There is a lake in the middle of the campsite and because there where no other guests we could set up camp anywhere. 
We found a good spot near the lake, it was full moon, the lake was a bit foggy. Spectaculair! 
We set-up camp, made some tea and went to sleep.
Lewie woke up early, so this was the same for us. We used our Road Shower for the first time. Bit cold but an awesome piece of equipment. 
There are a lot of hikes crossing through the campsite so we went for a short hike so Lewie could enter the car in a satisfied state. 
The hike was beautiful in the morning sun. Check the photo's!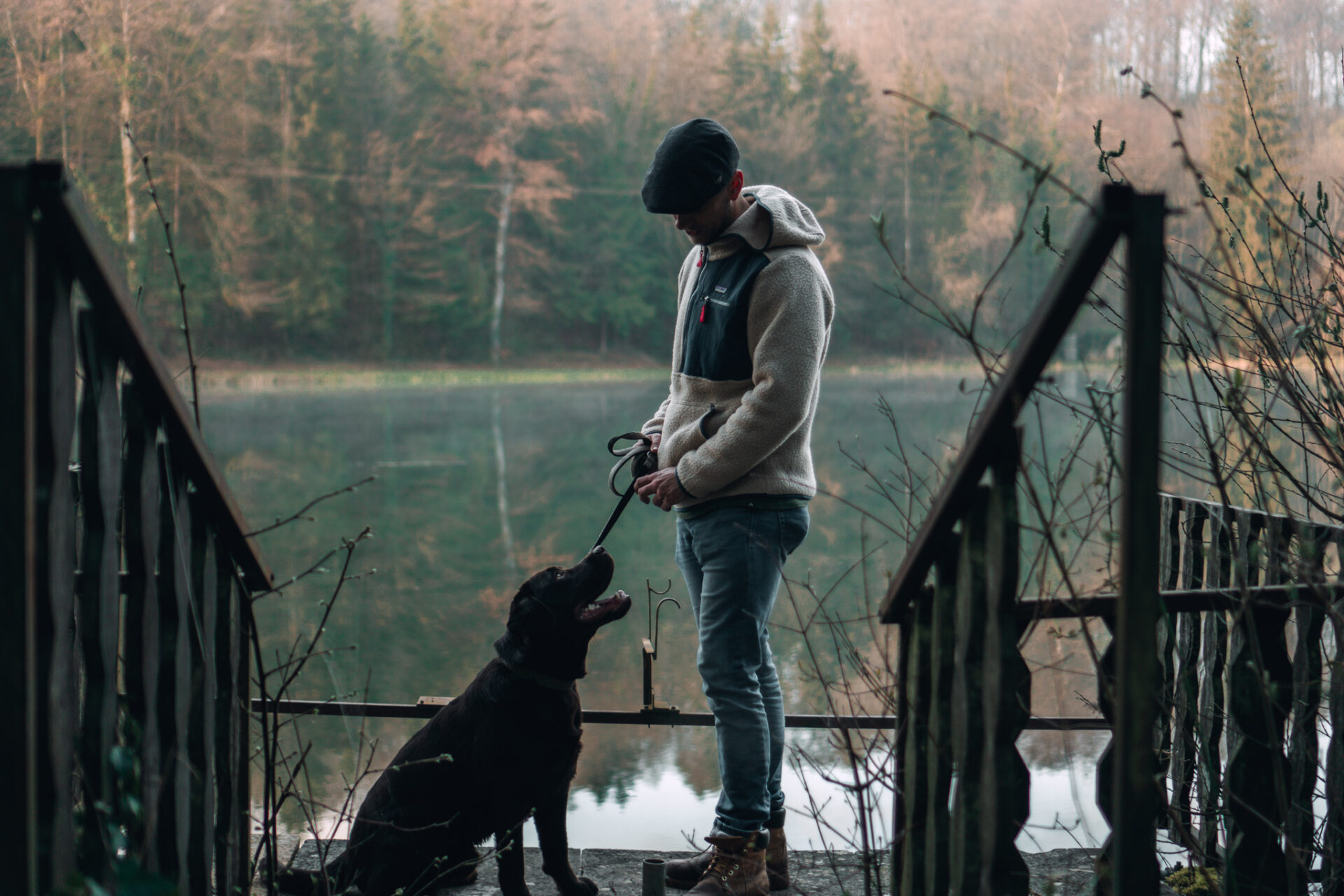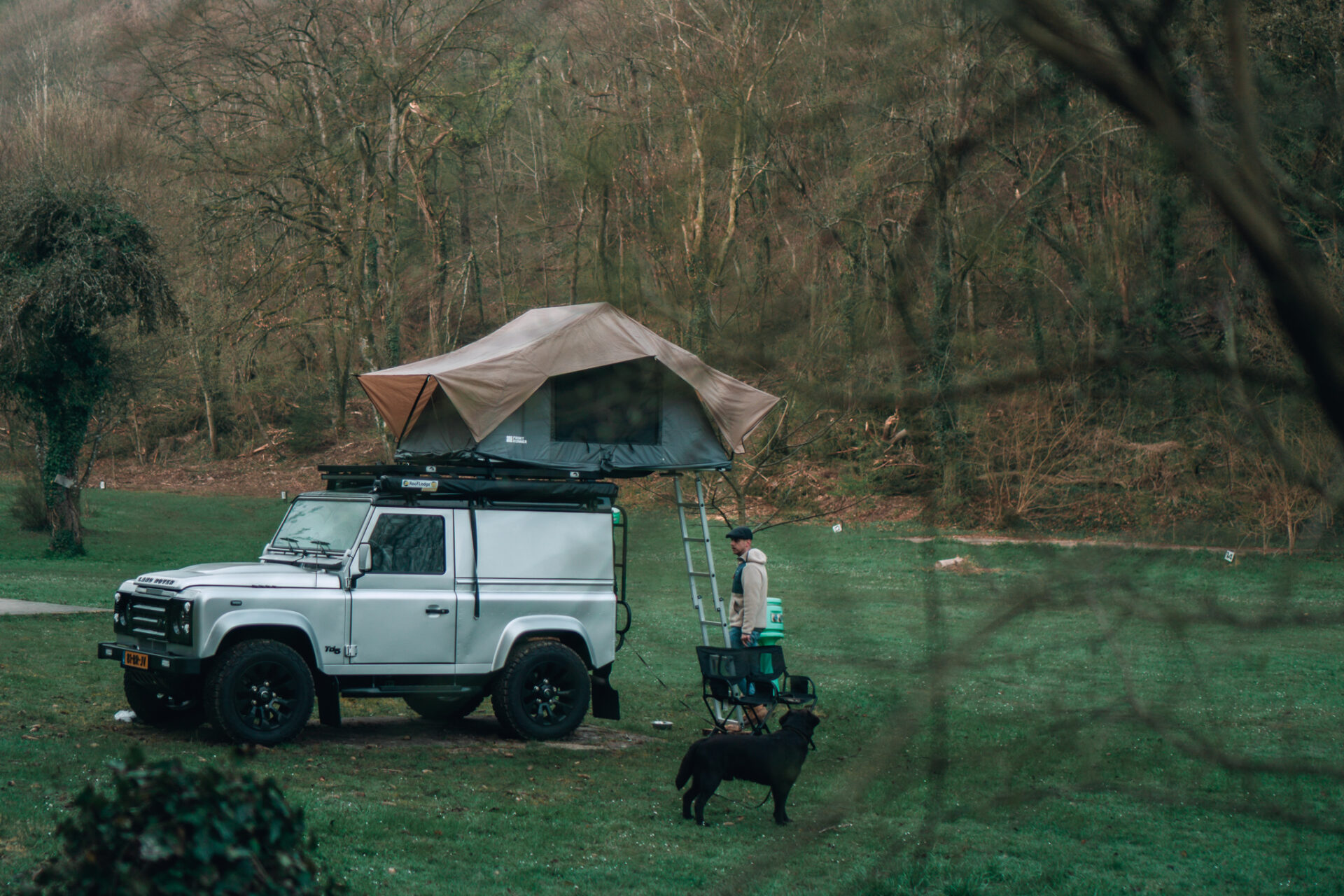 So from Verdun we had to drive all the way the Lake Annecy. But no one can undertake this long trip without visiting a French Bakery. We Stopped in this small town near our campsite. Bought a lot of Pain au Chocolat and continued our journey.
It was a great trip. We stopped a few times and had a short break. Lake Annecy was really busy so this got our mood a little down. Found a campsite near the lake. We weren't really fan of this campsite. It was busy and a lot of small spaces. But we knew this was only for this night because after this we would go into the mountains!
We drank some beers and had BBQ. 
Good night of sleep. Lewie still wakes up early in the morning. But this was a good thing because we wanted to leave early. 
Packed our car and left. We found this route on Wikiloc we wanted to follow. We weren't exactly sure how far we could get. It was still early spring so there is still snow. 
We passed by Lake Annecy again. The exact opposite site of the Town Annecy is less touristy. We saw a nice area Lewie could swim for a bit.
After letting Lewie dry we continued our journey. We drove the Manigod pass, absolutely stunning! On the top of the mountain there was a big parking area. Some people where still skiing but we noticed there are a lot of hiking trails. So first some hiking. 
We did the plateau de Beauregard hike. After only five minutes of hiking we found such a beautiful view we had lunch there. We brought our own picknick: baguette with french cheese. Nice!
Lewie had his first experience with snow and waterfalls. He had a great time! After an hour of hiking we decided to continue our journey. We had a lot more kilometers to cover.
After we did some more passes we search for a campsite. Because of our dissapointment the previous night we had to find a good one. There was one problem: a lot of campings where still closed. Most opened only in June. 
After a long search we thought we found one! mountains, remote and few campsites so perfect for us. Camping Le Bioley.
I think this was one of the best campsites to visit in April. It was beautiful, look at the views. And besides we were the only ones!
Because a lot of passes where still close due to winter conditions, we asked the owner of the camping for more information. 
She told us we could check out a mountain pass starting just across the entrance of the campsite.
Lovely mountain roads were we ended at a parking area. Not really busy, there where a few people with their ski's.
There is this beautiful pass up to Cormet d'Arêches here but due to winter it was mainly closed. We decided to hike around a bit. If it is summer you are allowed there with your vehicle and we would definitely recommend it!
So the one thing we loved about France: the bakeries. 
We didn't had breakfast yet so, up we go! Filled our car with pain au chocolate and we had a long drive to go.
Because we didn't want to drive more than 1000 kilometers in one day we used day four to move a little closer to The Netherlands.
This time we drove on the provincial roads instead of the highway and we preferred it much better. Our target was Luxembourg and find a campsite there.
Along the way we stopped at Vosges. a beautiful National Parc. Lewie could run and eat for a bit. 
Only 2 hours to go from here. We found a campsite in Luxembourg but would regret it later. 
We stopped at the Subway (we know but nothing else was open) and continued. It was a relaxing ride. 
The campsite was REALLY big. It was ok for one night but this campings we try to avoid. 
Packed our stuff. Got some yoghurt. Drove straight home!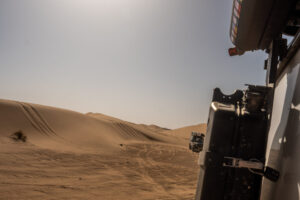 Morocco
Is it difficult to drive through the sahara desert? For us as amateur novice overlanders it was challenging but not difficult. In October 2022 we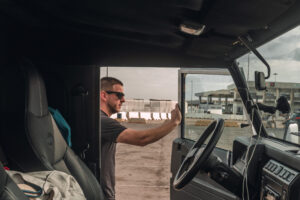 Morocco
The ferry from Algeciras to Tanger med In october 2022 we took the ferry from Algeciras to Tanger with our land rover defender. For us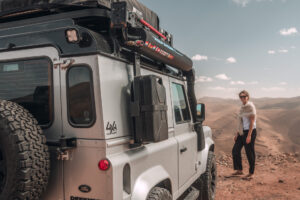 Morocco
Fuel in Morocco on a 4×4 offroad trip We toured around morocco in our landrover defender in October 2022 for 16 days and this is