the best weekend trip in Eifel, Germany
In early March 2022, we went on a short weekend trip to the beautiful Eifel, Germany. 
It was our second trip with our Land Rover Defender and Lewie. We decided to search for a destination which was about a 4 to 5 hour drive from home so Lewie could get used to the longer drives.
We left on a Friday afternoon after work. The weather was great for early march. 
We found this awesome nature camping in the middle of the forest. Just before we arrived we had dinner at Burger King. I know, bad. Normally we don't do this but couldn't find anything else. We had a vegetarian burger and it was pretty good!
The campsite was located in the vulcan Eifel area. It has good showers and toilet facilities. You can also make a campfire and chop some wood.
We arrived in the dark and got a warm welcome from the owners. They speak Dutch which for us was nice because we don't speak German. We set up our tent and went to sleep. Long day and probably a early wake up because Lewie was so excited!
And yes a early wake up, 06:00 in the morning as soon as the birds started singing and the sun started shining. We were very cold so we immediately took a nice hot shower. 
We started the day with a hike. There are a lot of hikes that start from the campsite. The information board is also on the campsite. We did the hike to Immerather Maar.
It was a loop from around 5 kilometers long and It took us about 3 hours.
The lake was beautiful, Lewie had a nice swim! So this was the perfect hike in the Eifel with a dog. We kept Lewie on the leash the whole time. Only for photo moments we let him off a few minutes.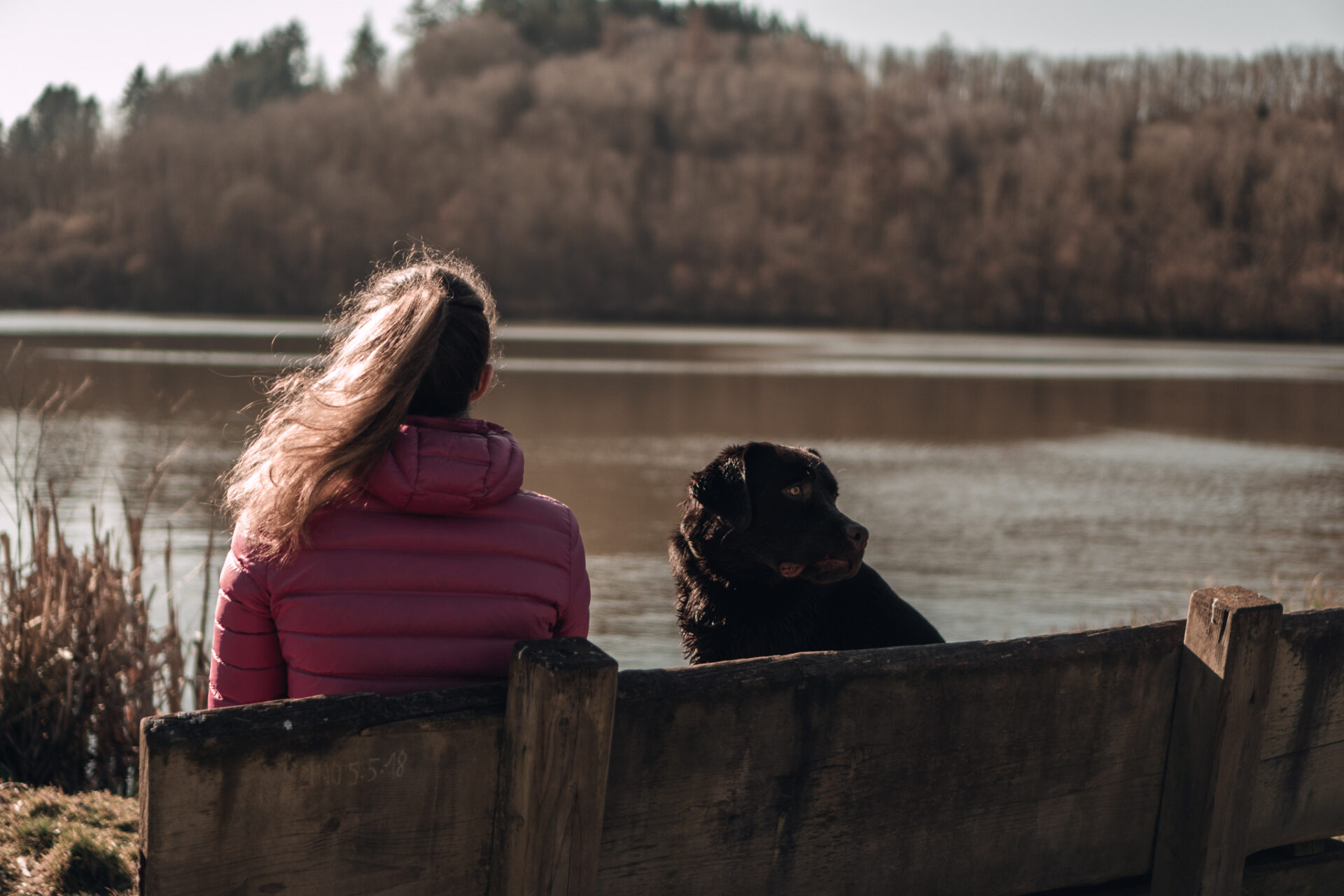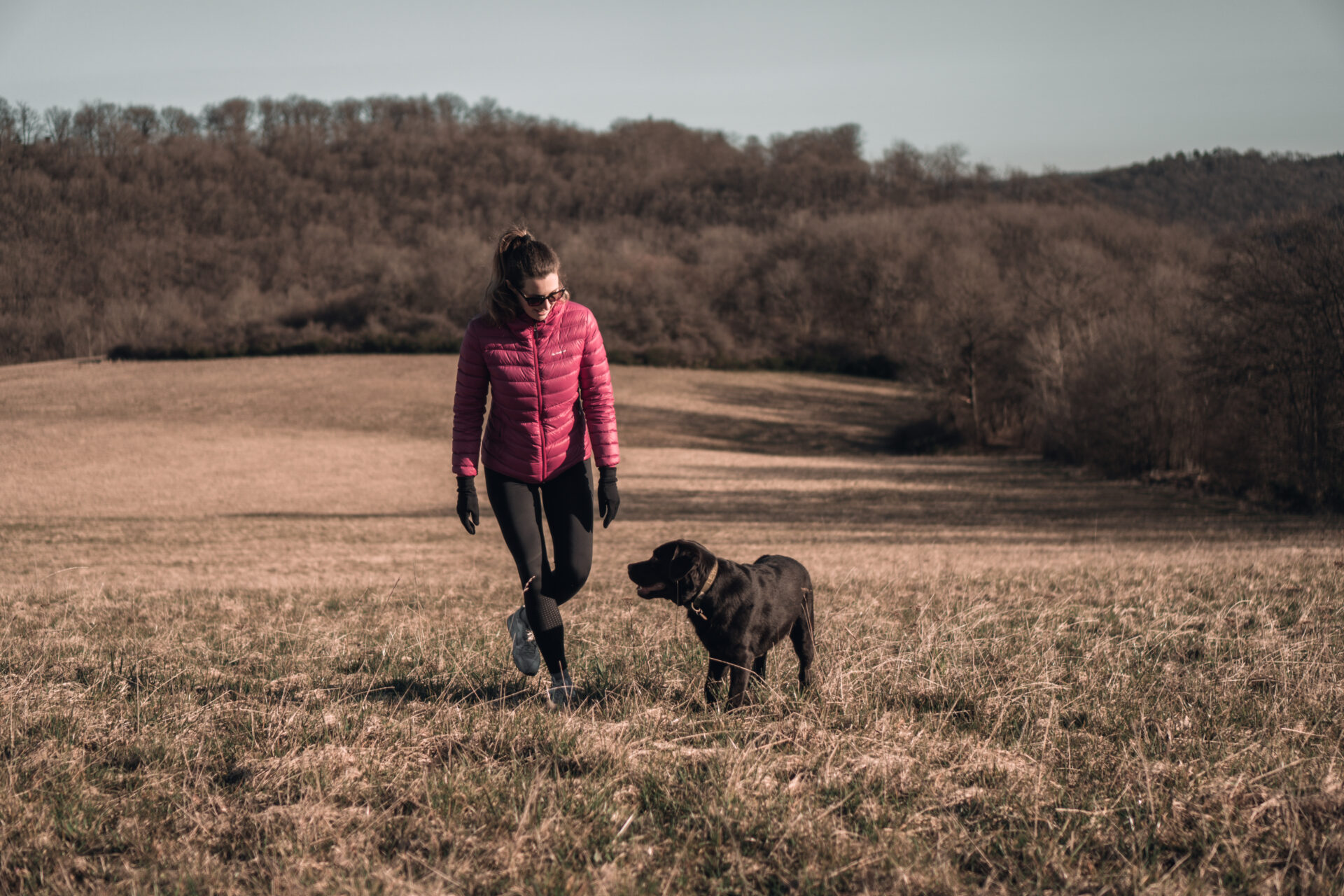 We returned from our hike around 11:00 in the morning. We had breakfast in the sun. Packed our vehicle and went for some exploring in the area.
We drove to Bernkastel-Kues is a old medieval town along the moselle river. Its a really old town established around the 1036 and the architecture is beautiful.
We parked the car a long the river on the main parking lot. There is a lot of space here. We couldn't find any information about parking fees so we just left the car there and hoped for the best. Its around a 5 minute walk, the city center is a car free area.
We just walked around a bit, had lunch at a perfect spot in the sun. We definitely recommend stopping at Bistro Bissje Anners for a quick bite. After lunch we did some groceries at Lidl for our BBQ later on and returned to our campsite.
Back at our campsite around 16:00 it was already getting pretty cold because the sun was behind the hills. We made sure we had a good campfire going on.
Our BBQ was great in combination with some beers. And look at the photos, doesn't this look great?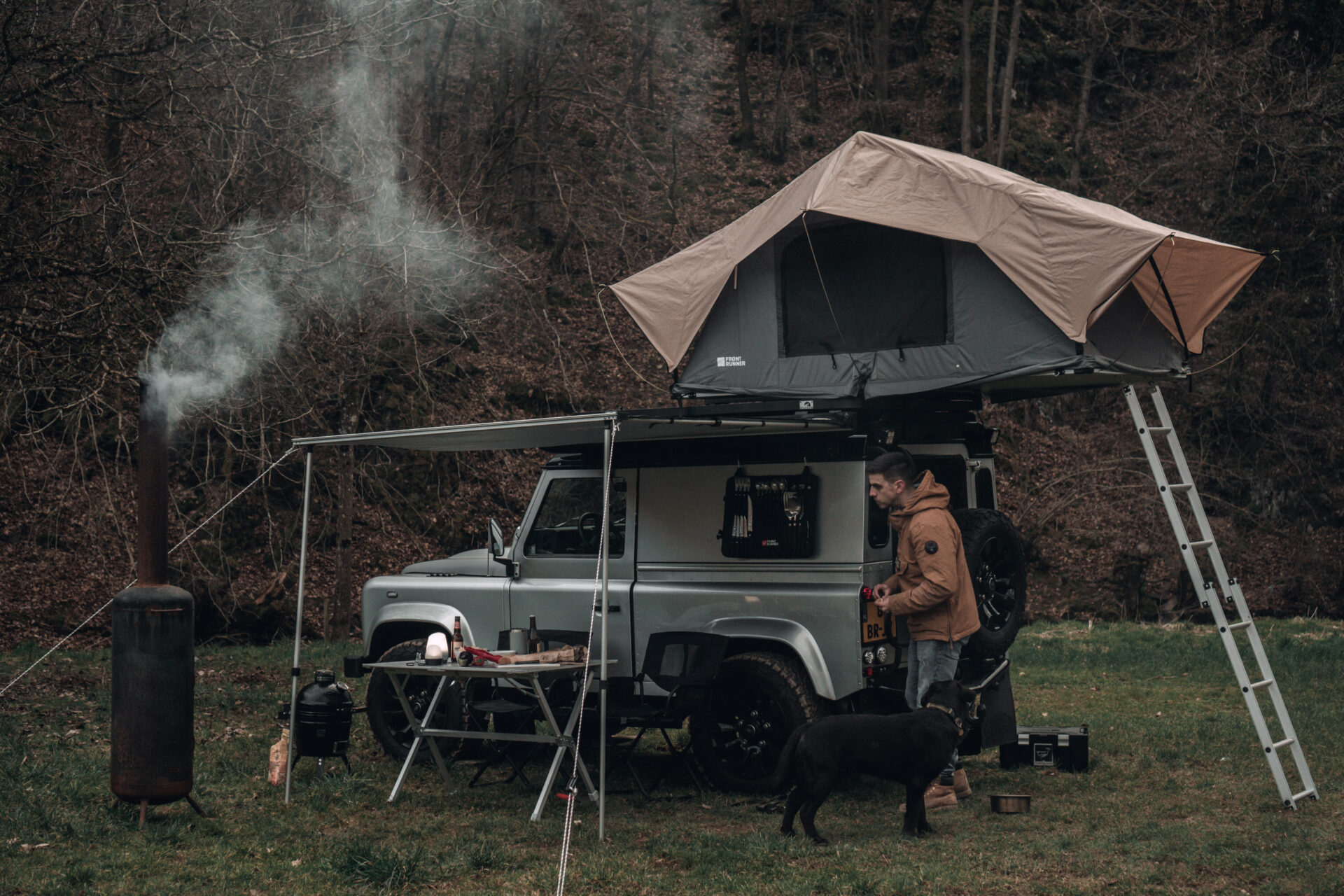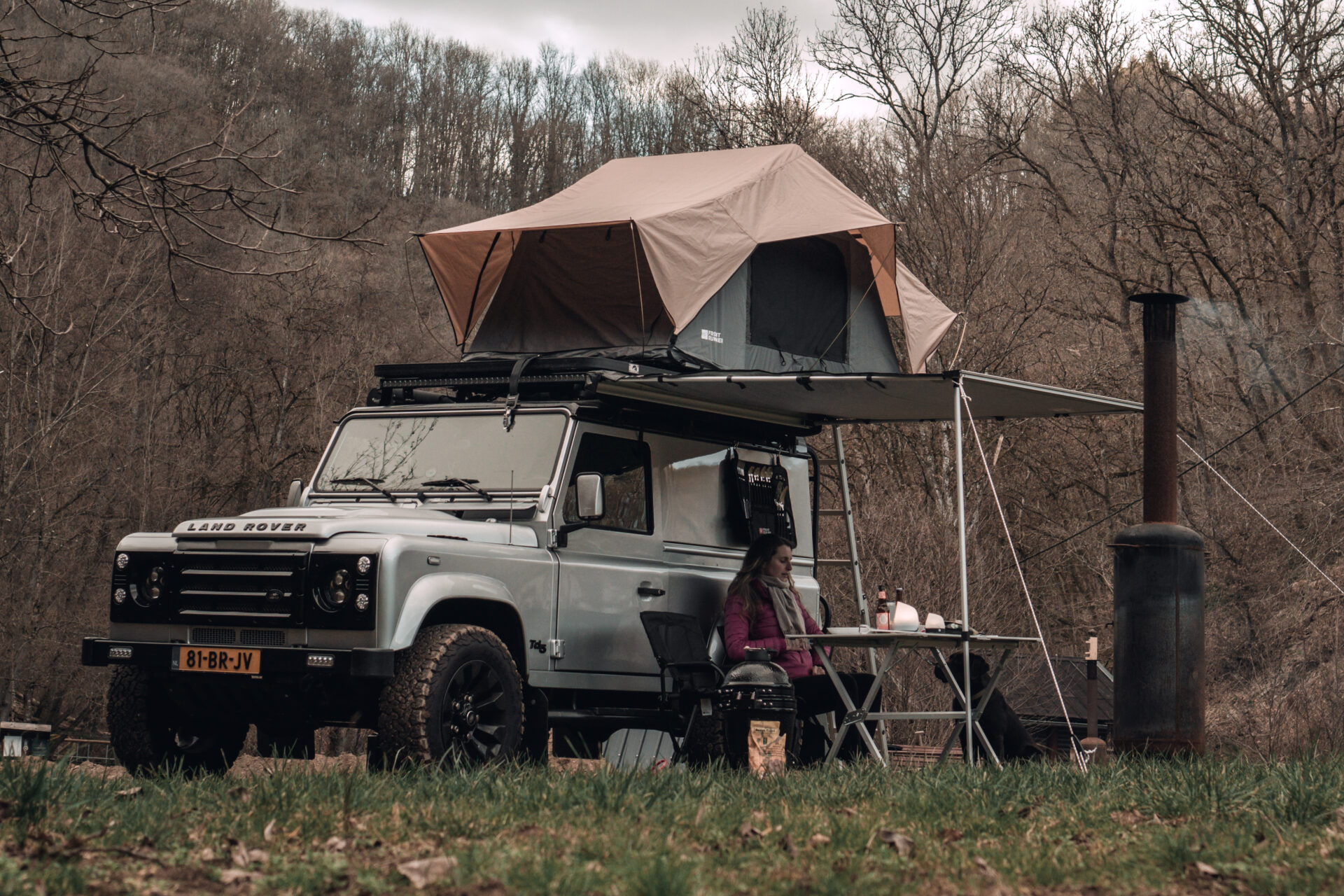 It was a cold night again so we woke up early. Lewie didn't notice anything from the cold and slept like a charm. We are so proud of him: goes to bed in the Rover at 2100 and we don't hear a peep until the next morning.
After some yoghurt for some quick energy we drove for 45 minutes to Burg Eltz. But first we stopped at the bakery die Lohners for proper breakfast. Definitely recommended. Then we continued our journey to Burg Eltz. This medieval castle looks stunning and gives you a Harry Potter feeling. There is a big parking area infront of the castle. From here it is a 5 minute walk to the viewpoint. But we recommend walking down and go to the bridge of the castle and if possible go inside.
We were there early March and the castle was closed. There is good acces for dogs around the ground. We also saw some nice walking trails in the forest around the castle.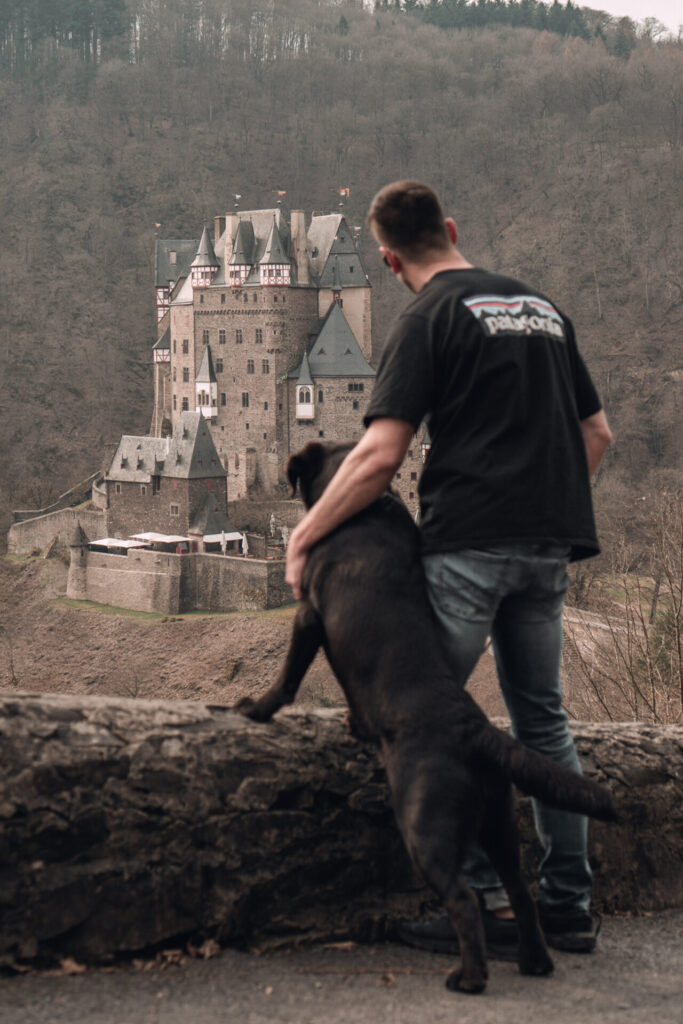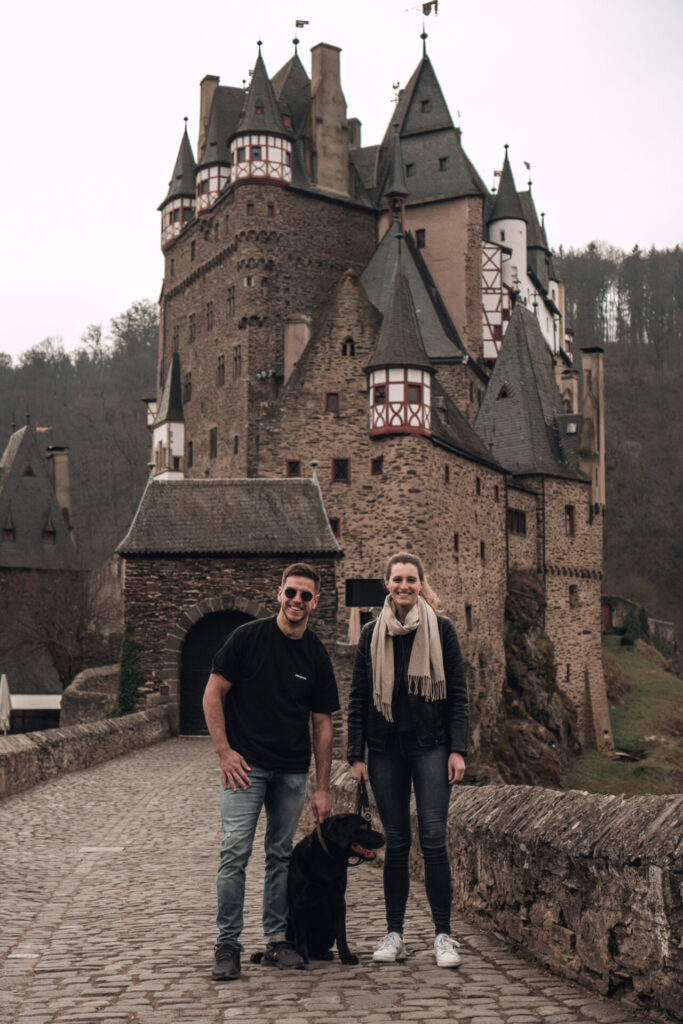 After our visit to Burg Eltz we set out route to National Parc Eifel. We wanted to do a last hike before driving back home for 4 hours. 
We did the Langscheider Wacholderblick hike near …
It took us around 1 hour to complete and was around 3 km.
We advice to do it clockwise so you have beautiful views all the time. Somewhere in the middle of the hike we had our awesome sandwiches we bought at Die Lohnners earlier that day.
After the hike, Lewie was tired and satisfied, we drove back home and had an awesome weekend!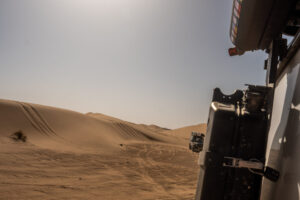 Morocco
Is it difficult to drive through the sahara desert? For us as amateur novice overlanders it was challenging but not difficult. In October 2022 we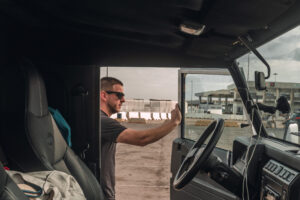 Morocco
The ferry from Algeciras to Tanger med In october 2022 we took the ferry from Algeciras to Tanger with our land rover defender. For us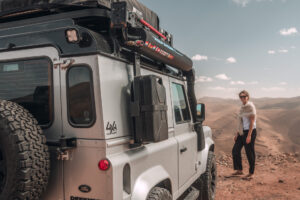 Morocco
Fuel in Morocco on a 4×4 offroad trip We toured around morocco in our landrover defender in October 2022 for 16 days and this is